The 2023 Medfield on the Charles Antique, Classic & Custom Auto Show is on for Sunday June 25, 2023 9-2. 45 Hospital Rd. Medfield, MA 02052. We will be celebrating the Twenty First Anniversary. 2022 was our best show and we were all set to build on it. We are back and will be putting on one great event this year. Check the registration form for information. TOP 100 Show plus many specialty awards. Clubs are welcomed.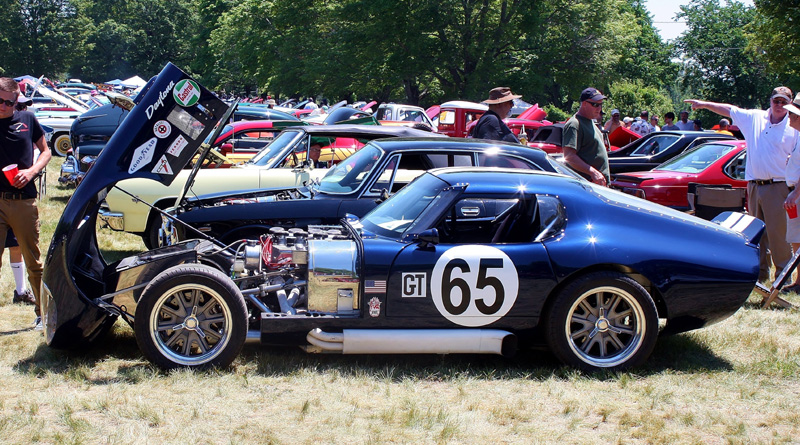 The grounds will be prepped and ready and our staff will waiting to greet all that have been waiting a long time to show their prized possessions. We are going to award the Top 100 and Specialty Trophies for exceptional vehicles. Best of Show, Runner Up Best of Show, Corcoran & Havlin Award, The IMPERIAL CUP, Antonio Jarvis Prestige Award, Tony Jarvis Red Line Award and The Joel Weinstein Memorial Award. The show has been shortened an hour this year (9 – 2) and Specialty Trophies will be awarded all day long and classes will be awarded staring at noon.
All show cars competing must be on show field by 10:00. There are "DO NOT JUDGE" placards at a generous reduced fee for those who want to display their show vehicle but not compete. Dee Jay Cruisin' Bruce Palmer will be the voice of the show and spinning the tunes. He is considered by many as the best in the hobby and I feel that his expertise and personality as a Dee Jay puts him right up there, but his knowledge of the car hobby and love of cars puts him over the top.
This year we will be putting on a very special Feature Display (70 YEARS OF CORVETTE) We are hoping to have one Corvette from each year covering all eight generations.If you own one of these vehicles or know someone that has one, please contact us so that we can allocate space for your vehicle. There will be one trophy awarded in each Generation. We are also looking for RARE Corvettes Big Brake, Big Tank, NCRS Top Flight, Optioned Cars, Race Versions and Survivors for an additional display in the CORVETTE SHOW FIELD. Saturday will be available for setup if needed and ample onsite Trailer parking is there for your convenience. Contact Charlie 781-400-0744 for additional info.
Twentyone years ago we never thought we would grow in size that we would be filling show fields to capacity, but we have done that and exceeded all our wildest dreams. The crowds of spectators get what they hope for when they come through the gate. Many rare and awesome vehicles you rarely see in one location. Let's come back in style this year. It would be a sight to see every space filled and turn out a record number. See you Sunday June 25th. Corcoran & Havlin Insurance Group has been our Major Sponsor since we've began this event and am please to say Thanks to them for celebrating our 21st Anniversary together. This is a very nice milestone to hit and we appreciate Corcoran & Havlin for supporting us through the years. The show will be video taped again by NE RODDER. You can check out last years show at North East Rodder Video Magazine.IMPERIAL CARS had a very impressive display lasy year and will be back this year and a very special thanks to Kevin, Mike and the entire crew. NCRS Corvettes will have a large diaplay as well as the Modifiers of Wellesley. Put Sunday June 25th on your calendar for fun day seeing some of the finest cars in the area.
With the anticipated growth of the show, we are reaching out for volunteers to help direct show cars, the registration booth, ballot counters and experienced Judges. All Judges must come to a scheduled clinic, so the entire staff is on the same page.
Footnotes:
Medfield on the Charles Car Show is Sunday June 25, 2023.
Free parking for spectators with Handicapped Parking and an area for Motorcycles.
Admission: 5.00 each, kids under 12 FREE.
Pre Registration ends June 20th. Day of Show Registrations welcome.
Food Truck & Ice Cream Truck on site (Board of Health Regulations apply).
Show information: Phone: Charlie 781-400-0744 email: [email protected]